Read this first
Congrats on making the commitment to yourself and your blog!
The FIRST module is available to you! Within it you will find 5 assignments along with helpful resources to get you taking action.
Remember, be sure to join the 30 day Blogging Bootcamp Private Facebook. This is a great way to stay consistent and motivated. Plus, don't be afraid to ask questions!
Below is a reminder of what we will be covering in the six Modules. First up: How to Build Your Blog!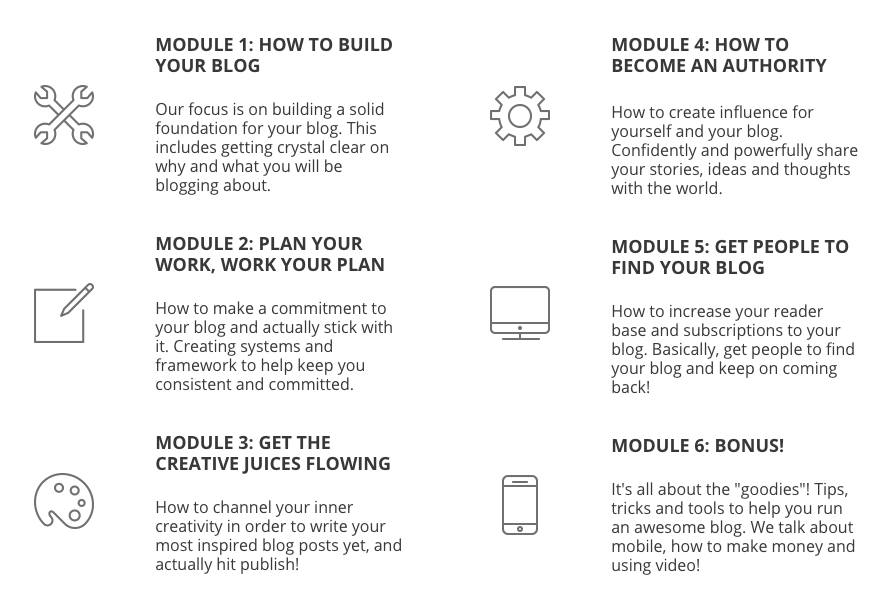 You now have immediate access to Module 1. The other modules will become available every week after that. That way it's easier to complete them in order (no temptation to skip ahead!) and also not completely overwhelming to have 30 different assignments showing up on your course curriculum page!
In the meantime, block out some Bootcamping time in your calendar. You are going to need around 2-4 hours per week dedicated to completing the assignments and keeping up with your blog. This time is KEY to making this Bootcamp work for you.
Oh, and while you're at it - watch this Marie Forleo TV show: The 4-Minute Trick for Massive Productivity. It always helps me get my priorities straight!
Happy Bootcampin'! :)